Lameys were delighted to present Bernadette Thoreau from Children's Hospice South West with a cheque for £600.

The funds were raised during a charity 6-a-side cricket competition which Lameys organised in association with Edward Symmons. The event was supported by many local businesses.

We would like to thank the following for their support:

Ashfords LLP Solicitors
Bliss Spa
Bond Pearce LLP Solicitors
Boringdon Park Golf Club
Bright (South West) LLP Solicitors
Clydesdale Bank
Diggerland
Foot Anstey LLP Solicitors
Fort Stamford Health & Fitness Limited
Jesters Limited
Kitsons LLP Solicitors
McCaulay's Health & Sport Limited
Outset Finance
Plunkett-Yates Chartered Certified Accountants
Plymouth Albion Rugby Football Club
Plymouth Argyle Football Club Limited
Plymouth Gin
Plymouth Raiders Basketball Club
Plymstock Properties
Riley Chartered Accountants
Ross Sporting Activities Limited
RS Pools Limited
Staddon Heights Golf Club
The Wrigley Company Limited
Theatre Royal Plymouth
Thompson & Jackson Solicitors
Vickery Holman Property Consultants
Woodlands Family Theme Park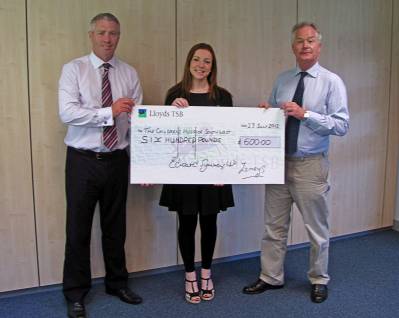 Picture (left to right) Julian Brailey from Lameys, Bernadette Thoreau from Children's Hospice South West, Peter Luff from Edward Symmons.
Continue reading